Check this page regularly to learn more about upcoming events at St. Thomas! For a complete listing of St. Thomas activities and functions, please see our parish calendar.
MEMORIAL MASS FOR PRE-BORN
MEMORIAL MASS FOR PRE-BORN & STILLBORN
Register now for our next Memorial Mass
for those who have suffered the loss of an
infant: Saturday, May 21 at 9 AM (during
the regular morning Mass). This event is
open to anyone who wants to come;
please feel free to invite friends and
family who will be blessed by it.
Contact Michelle Kazanjian if you have questions or would like to explore resources for grief support:
mkazanjian@sta2.org or 734.761.8606 X 1008.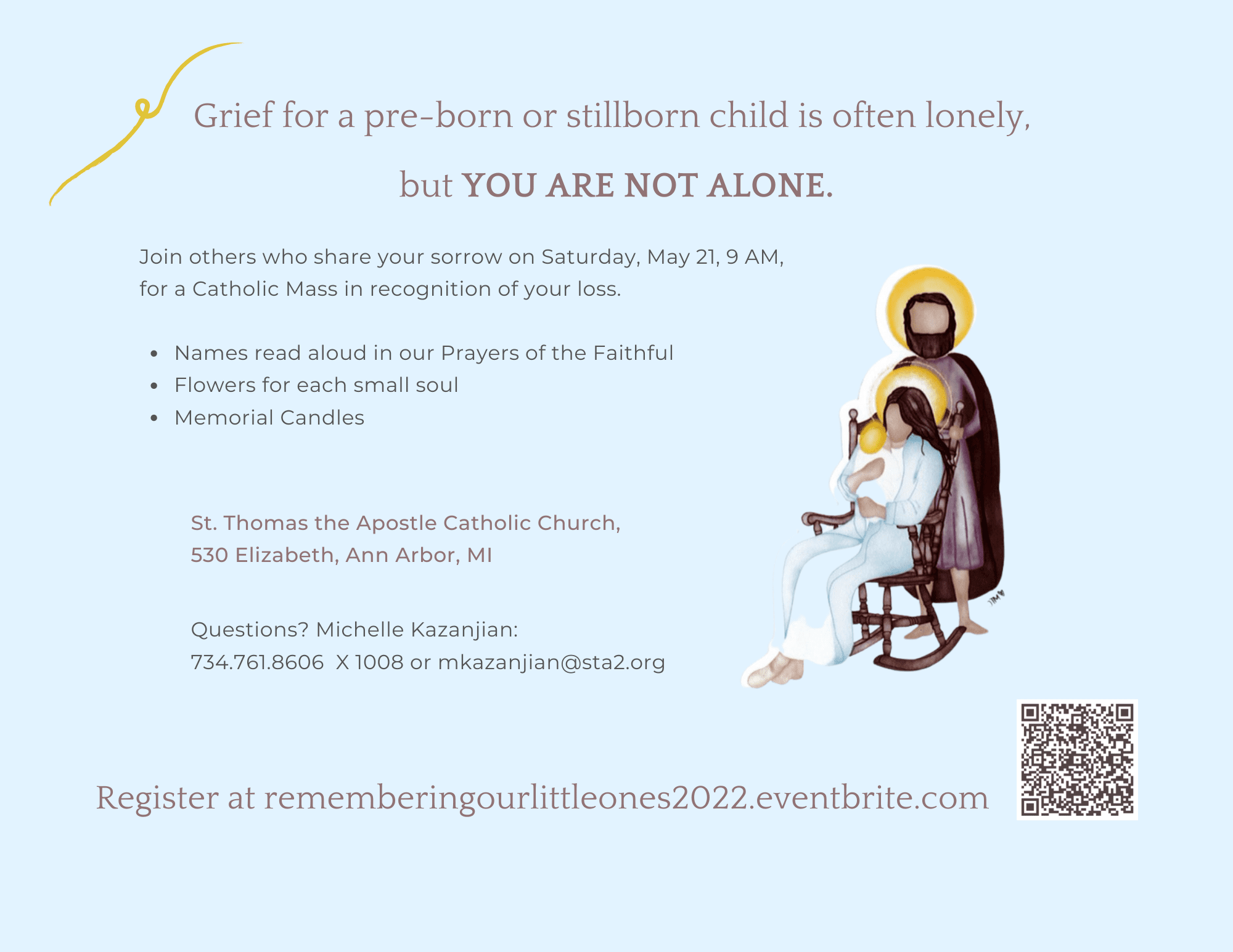 CATECHESIS OF GOOD SHEPHERD
Will you join us in this ministry???
June 2nd – Formation Class
Catechist Corner
"The task of the catechist is to initiate into religious reality, that is to say, (1) to point to the reality that we are surrounded by the presence of a Person, of a Love, because from this knowledge is born (2) a personal relationship with God".  Sofia Cavalletti, The Objectivity of Catechesis
Does catechesis appeal to you as a way to live the Light of Christ?  
Catechesis of the Good Shepherd is a way of offering Christ to the youngest of our parish family. The catechist in CGS learns the developmental activities most appropriate to allow the Holy Spirit to be the child's teacher. Hence, Catechists do not teach, but walk with the children in opening ourselves to this personal relationship with God.
What is Catechesis of the Good Shepherd?
Catechesis of the Good Shepherd (CGS) is a valid catechetical way for the religious formation of children which has official recognition in Rome. It is rooted in the Bible, the liturgy of the church, and the educational principles of Maria Montessori. It is also promoted by Bishop Boyea of the Diocese of Lansing.
The spiritual lessons presented to children are in support of the joy, awe, wonder, and peacefulness of knowing God. The children are exposed to meditation, mystery and transcendence, because in the Atrium, the Holy Spirit is the teacher.
What is the Atrium?
This form of catechesis is presented in an environment called an Atrium which is designed to respond to the developmental needs of children. The atrium room prepared for them contains simple yet beautiful materials to help them absorb the most essential proclamations of the Christian faith.
Where can I find a Catechesis of the Good Shepherd Atrium?
Right here at St Thomas!!!!   Will you join us in this ministry??? 
Prepare for 2022-2023 catechesis series:
A formation class is being offered this June 2nd at St. Robert Bellermine in Flushing
 Kate Bockbrader kbockbrader@aol.com or 
Caty Sumerton csumerton@gmail.com 
 will be happy to answer questions, or to assist you in registering.
ICONOGRAPHY WORKSHOP
St. Thomas The Apostle, Ann Arbor
June 13 – 17, 2022
9am-4pm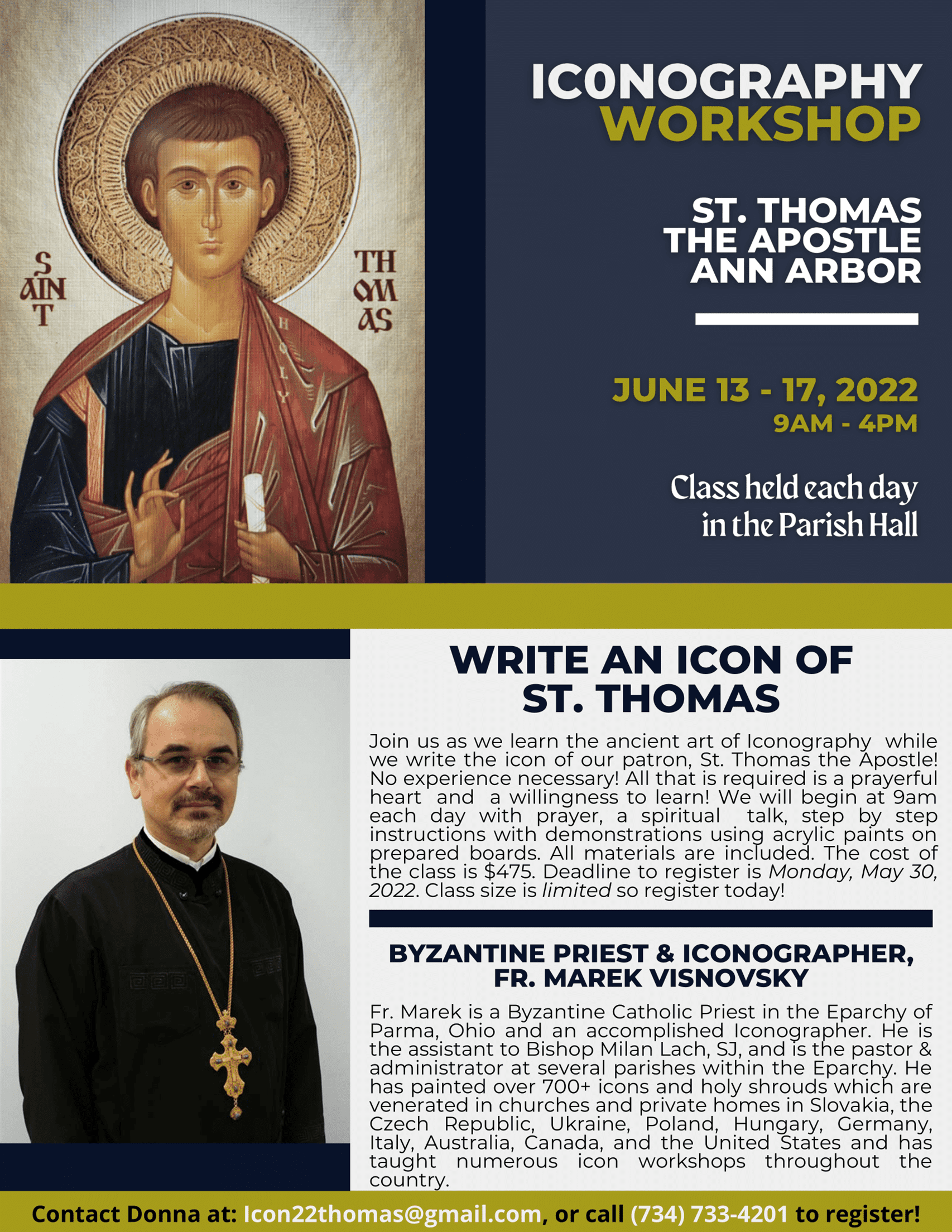 SUNDAY DRIVE
As we enter the summer months, we need more committed volunteers to pick up the food that is donated in the containers over the weekend and then deliver it to the Northside Food Pantry either on Tuesday or Thursday. This service is needed and rewarding, as parishioner Claudia Elli describes so well:
One day my Guardian Angel struck me: "Serve the poor!  How do you serve the poor, Claudia?" I thought, "Well…I give money, I chat with the homeless, I went for some years to Foodgatherers, I even drove a poor person to her home in Flint once…wow! Almost Mother Teresa!…well, yes, I am not very generous in this regard, but I do not have time to do more.
Then I remembered that Ii actually serve the poor every week, delivering the food to the pantry.. I didn't think of it at first, because I considered it a delivery, not truly "serving the poor." Then my angel suggested, "Maybe you should put some salt in it!" What a good idea! If I would do it regularly, with love, maybe even praying over the food or in any case being intentional, it might really be "really serving the poor."
From that moment when I had this internal conversation with my Angel, to deliver the food took a complete different space in my life. even in my prayer life, for example, praying that people will donate healthy food, not junk. Iit became super interesting, cool, pleasant, because it became intentional. 
I am sure we have families that search for simple way to serve the poors and do not have so much time and possibilities, because, maybe, they have many children of different ages, or they are unable to find something else close by. They may not know about this opportunity, or they may be like me in the first phase… thinking this is not much, .just a drop in the Ocean.  They may not see that this is a very simple, but honest and important way to serve. It solves the problem for the Parish of how to deliver the food and it really helps the facility to not have to pick it up. 
It  may not be so emotionally rewarding as serving at a soup kitchen, but it can become very interesting and special, if one does it with love. 
Contact Michelle Kazanjian: mkazanjian@sta2.org or 734.761.8606 X 1008.
COFFEE AND DONUTS
1st and 3rd weekends of the month
Coffee and donuts will be available after the 9:30 and 11:30 a.m. masses on the 1st and 3rd weekends of the month.
CHANGE: Coffee and donuts will now take place outside in the parking lot starting in June. For inclement weather, it will be cancelled.
Coffee and donuts will be cancelled for June 19th in observance of Father's Day.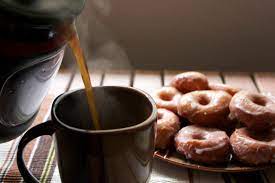 Children's Adoration Hour
CHILDREN'S ADORATION HOUR
First Fridays 11am
Come experience Eucharistic Adoration with your little ones! Join us on the First Friday of every month at 11 am to the repositioning of the Blessed Sacrament. Children will meet in the bridal room (off of the women's restroom) and can be picked up there afterwards.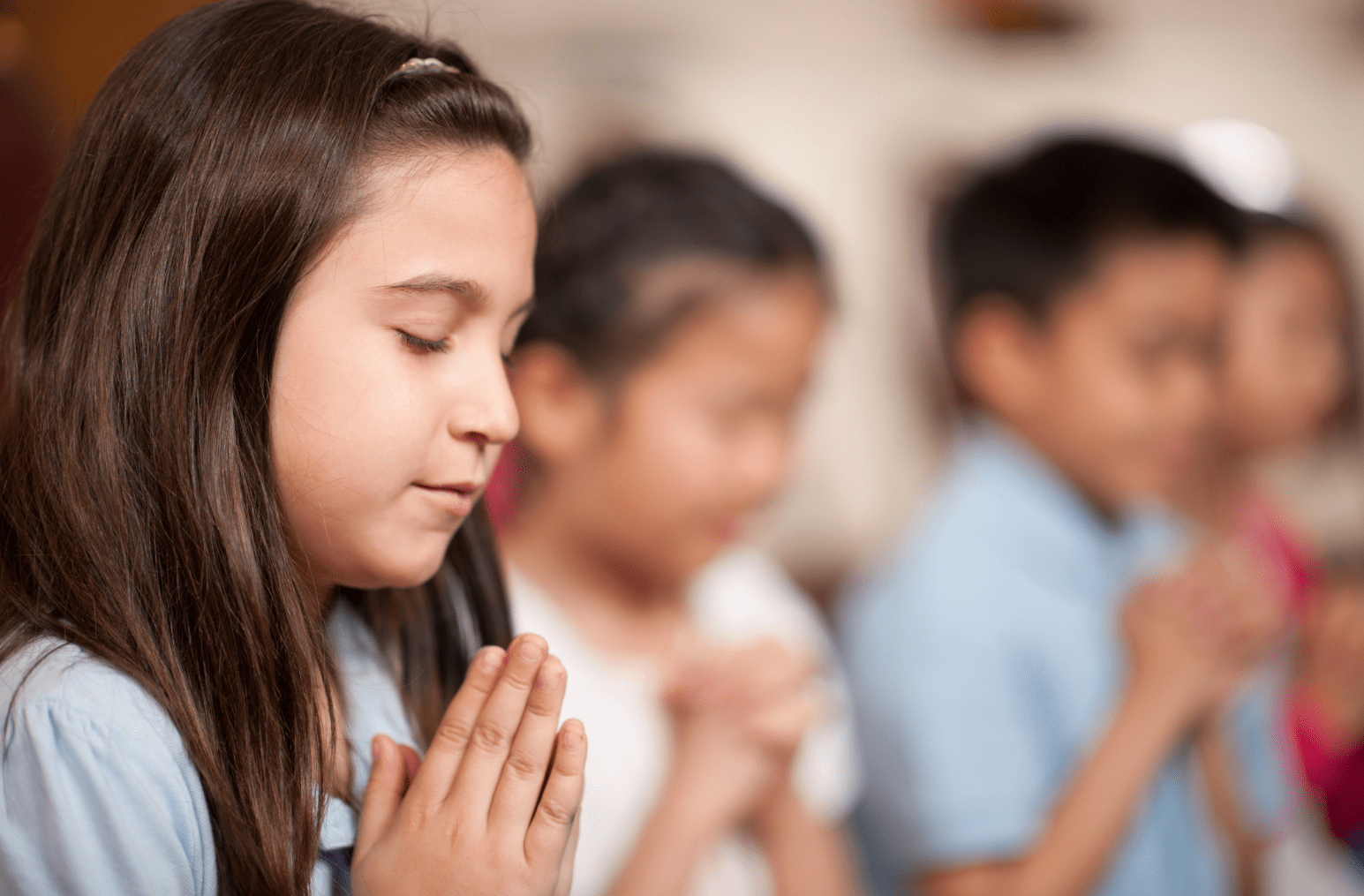 Young Adult Events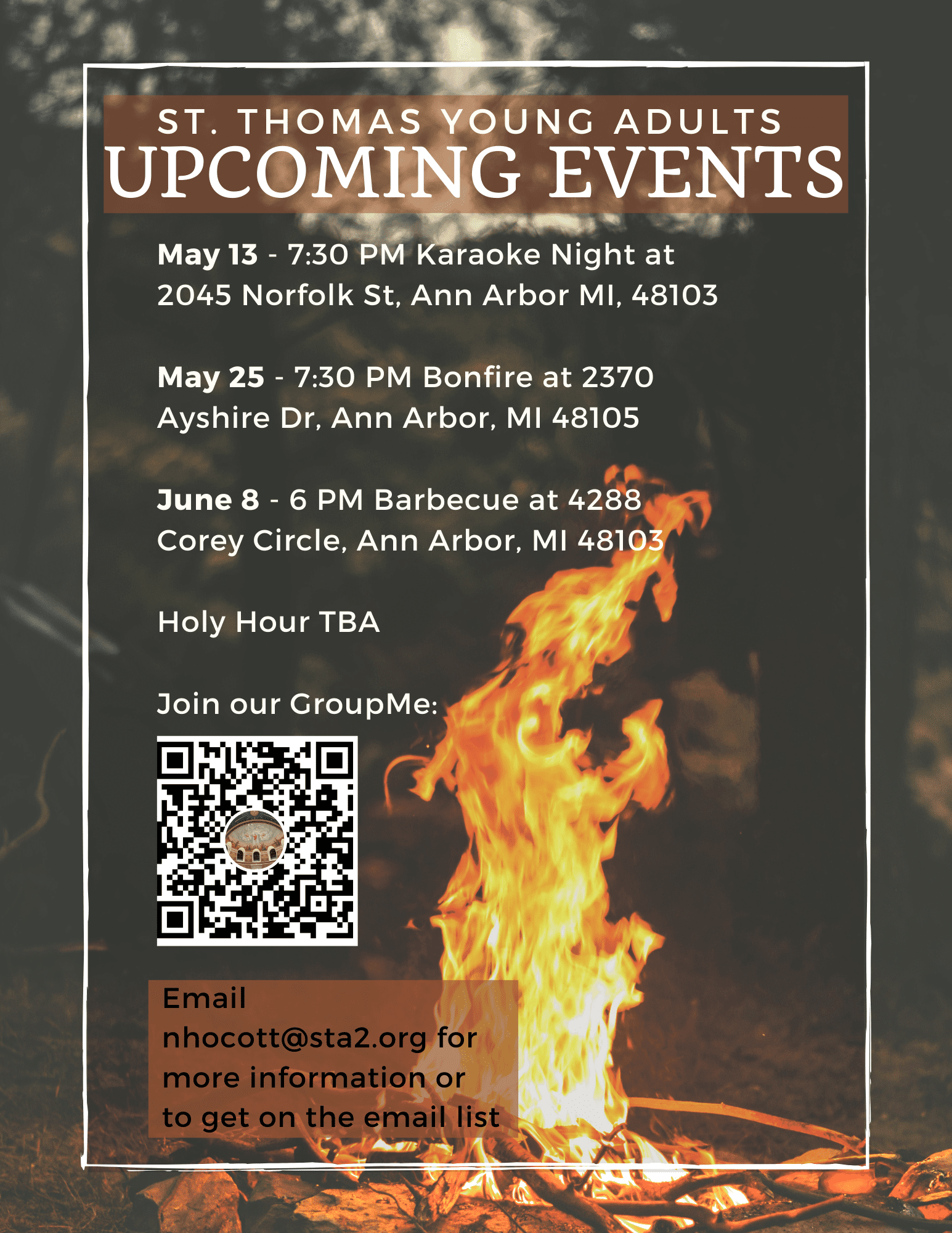 Lectio In The Park
Lectio In The Park
Wednesday Mornings 8:30-10am
Lectio in the Park returns! Join us on Wednesday mornings from 8:30-10am, Mill Creek Park North in Dexter. Sharing starts at 9 AM .
Every Wednesday from June 8 through Labor Day, moms and female caregivers are welcome to meet at the Mill Creek Park North in Dexter to share faith inspired by the previous Sunday's readings and kick off another week of Lectio Divina. Bring your own breakfast and drinks; a small snack will be provided by St. Thomas. Everyone is encouraged to stay a while for playground fellowship.
For questions or rsvp:
Caroline Biskner 734.709.7543;cbiskner@sta2.org
Lindsey Robitaille 614.634.2390; lindsrobit@hotmail.com
OCTAVE OF PENTECOST MASSES
OCTAVE OF PENTECOST MASSES
(JUNE 5-12)
Need more of the Holy Spirit? Join us every day from June 5-12 for the Octave of Pentecost, a series of eight consecutive Extraordinary Form Masses in honor of the Holy Spirit. The Mass times will be at 7pm on Monday-Friday and at 7:30am on Saturday morning, in addition to the normal 11:30am Mass on Sundays. Veni Sancte Spiritus!