Join a Bible Study at St. Thomas!
The Bishop has announced that this year is the Year of the Bible. You can take this opportunity to grow in faith and connect to the parish community by joining a St. Thomas Bible study. As the Year of the Bible continues, more Bible studies will be added!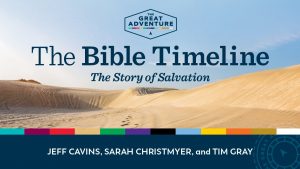 BIBLE TIMELINE: THE STORY OF SALVATION SCRIPTURE
The Bible Timeline takes you on a twenty-four-part guided journey through salvation history.
Participants of The Bible Timeline will meet every Wednesday from 7 to 9 PM in the St. Thomas Parish Hall for lively group discussion and fellowship followed by an engaging video presentation. Bible study begins on Wednesday October 6, 2021 and will run through mid-May. We hope you can join us!
After registering, please use the following link for the Ascension Press website to purchase your study materials. You can choose between the 'Study Set' that includes a workbook that will be shipped to your home or 'Online Access Only" where you will have online access to the workbook for one year. Both options will give you access to the online videos for one year: https://ascensionpress.com/collections/the-bible-timeline-the-story-of-salvation
For more information – Mary Collins (734-546-7849) marycollins1004@gmail.com or Kathleen Kittle (734-709-9916) kkittle@renewalministries.net