Check this page regularly to learn more about upcoming events at St. Thomas! For a complete listing of St. Thomas activities and functions, please see our parish calendar.
Faith Formation
RELIGIOUS EDUCATION & SACRAMENTAL PREP IN 2022-2023
Although we are still searching for a Director of Faith Formation, we have a dedicated team of experienced catechists at St. Thomas who are planning a rich and beautiful experience for preschool & early elementary students along with a robust plan to prepare our 1st communicants and confirmands. 
REGISTER FOR RELIGIOUS EDUCATION PROGRAMS NOW
You can now find registration forms for the religious education classes described below on our website.
Until we find a Director of Faith Formation, our program is limited to sacramental prep for 1st Communion & confirmation and Catechesis of the Good Shepherd for PreK-3rd grade. If you are interested in something for your later elementary and middle school students, consider Conquest (boys; contact Jim Gregor) and Challenge (girls; contact Teresa Gregor); for high school students, consider Zion (boys) and Be Love Revolution (girls). 
GENERAL INFORMATION
The deadline for registration is August 31. After that date, a late fee of $20 will be added to each registration and registration closes on September 15.

Parishioners and those who attended St. Thomas Catechesis of the Good Shepherd classes last year have priority registration for CGS until August 31. 

Confirmation does not have a cap on numbers, so there is no priority registration

We will publish start dates and times soon, but plan on orientation meetings shortly after Labor Day and programs launching in mid-September.

St. Thomas preK and elementary students attend Catechesis at school, so they do not need to register for religious education. The CGS classes offered are for students who do not attend St. Thomas School.

All students making 1st Communion, no matter where they attend school, will register for specific sacramental preparation in early fall; this will include five evening classes with their families plus some special events. Those registered will receive a schedule and more details at the family orientation.
CLASS DESCRIPTIONS WITH REGISTRATION LINKS
 The Catechesis of the Good Shepherd or "CGS"  (PreK through 3rd grade)
 The Catechesis of the Good Shepherd is an approach to the religious formation of children. It is rooted in the Bible, the liturgy of the church, and the educational principles of Maria Montessori. Children gather in an "atrium," a room prepared for them, that contains simple yet beautiful materials that they work with to draw closer to Christ in prayer.  
 Level 1 CGS is for 3-6 year olds/PreK through Kindergarten. 
At this level, children grow closer to God through reading the parables of Jesus & the infancy narratives that tell of his birth and through  learning about the liturgy of the Church. For those children not attending, St. Thomas school, we will offer a Level I atrium on Friday mornings at 8:30-10:30 AM and also two on Sunday mornings: 9:15-11:15 and 11:15-1:15. 
Contact Kate Bockbrader if you would like to discuss CGS Level I: kbockbrader@aol.com.
Level 2 CGS is for 6-9 year olds (1st-3rd grade)
 At the start of Level II, the child begins preparation for First Holy Communion by delving deeper into Scripture and the liturgy of the Catholic church.  During the second year of CGS Level II, families receive a catechetical text to help them with faith formation as a domestic church in the home.
 For those children not attending St. Thomas school, we will offer a Level II atrium on Friday mornings at 8:30-10:30 AM and also two on Sunday mornings: 9:15-11:15 and 11:15-1:15.   
Contact Caty Sumerton if you would like to discuss CGS Level II/1st Communion prep: csumerton@gmail.com. 
Confirmation (incoming 8th graders)
 Confirmands will have the opportunity to complete the 14 works of mercy with their peers in collaboration with Catholic charities and organizations. Students will also study the Catechism of the Catholic Church, the Bible, the theology of the body, and other Catholic literary works. Throughout the year, students will meet for Socratic discussion with an emphasis on adoration, spiritual warfare, Lectio Divina, and the lives of the saints.
At the end of October, confirmands will also participate in a one-day retreat at Our Lady of the Fields in Brighton. This retreat will include Mass, Reconciliation, lectures, prayer, and outdoor activities including a high ropes course and rosary walk. Please contact Alisa Maile with any questions: aamaile7@gmail.com. 
MUSIC MINISTRY EVENTS
2022-2023 Music Ministry Events
Nov 2 the Faure Requiem will be sung as part of the All Souls Day Mass (Extraordinary Form) at 7 pm.
Nov 14 at 3 pm we will hold a Benefit Concert for the St Cecilia Society. A number of our parish musicians will perform sacred and classical selections. A free will offering will help support our parish music program and assist us in offering additional special events throughout the year.
Dec 12 at 3 pm is our Advent and Christmas Festival of Lessons and Carols. The Parish Choir, Schola Cantorum, Children's Choir and instrumentalists will join together for this special occasion.
May 1 at 3 pm our parish choirs and instrumentalists will join together to present a beautiful Easter Concert.
Starting July 1, 2022:
Please join us in singing Latin Vespers on First Fridays at 6 pm in the church, starting July 1. This is part of the Liturgy of the Hours, an ancient practice of clergy and lay Christians that helps us to close our day in prayer.
YOUNG ADULT EVENTS
SUMMER SAINTS SERIES
July 11 –Movie Night
July 28 –  Talk and Dinner
August 10 – Bonfire and Barbecue
August 28 – Talk, Holy Hour and Beer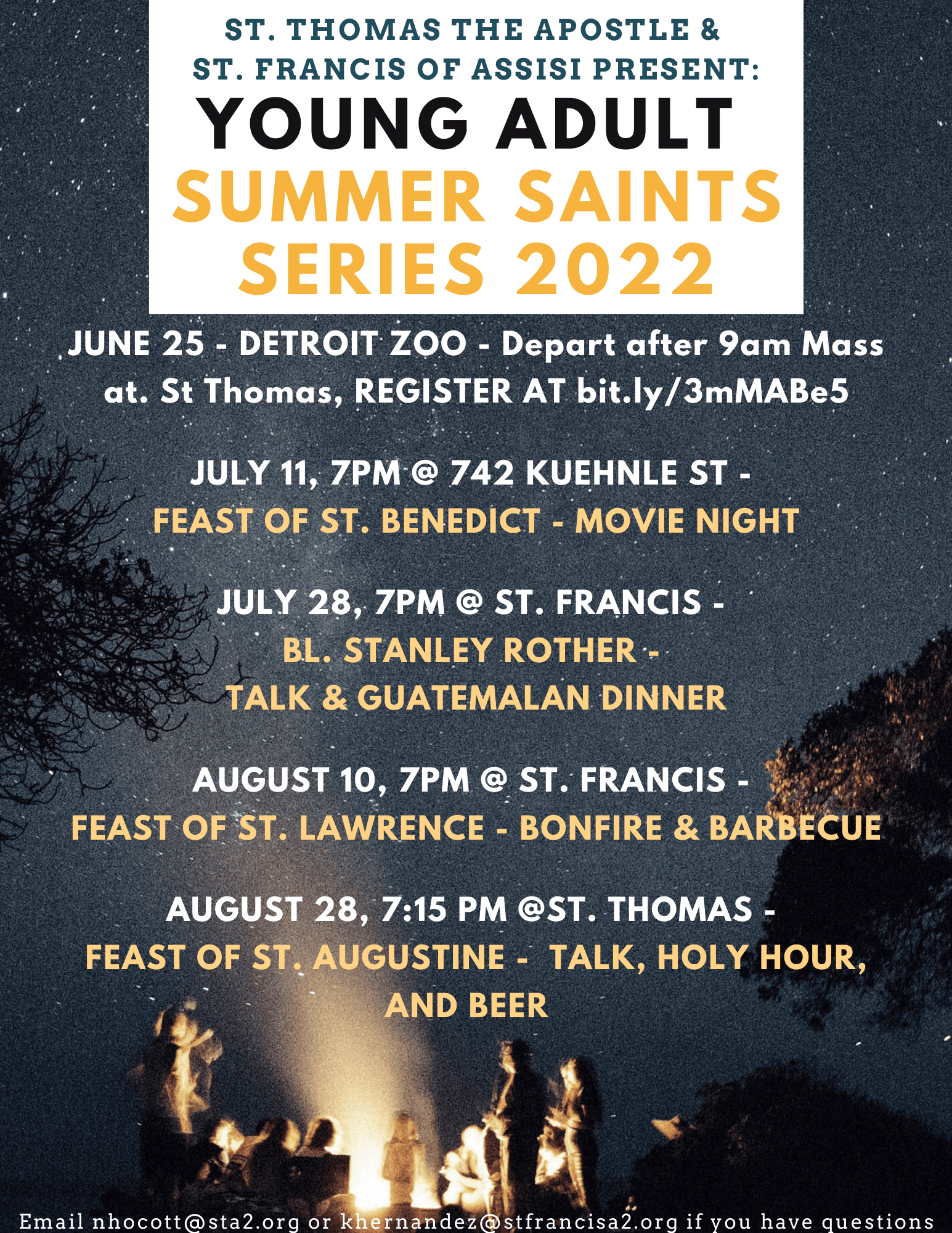 COFFEE AND DONUTS
FOR SUMMER MONTHS: This event will be moved outside in the parking lot by the playground
Drinks and donuts will be available after the 9:30 and 11:30 a.m. Masses in the summer once per month only.
DRINKS AND DONUTS DATES:
August 21
For inclement weather, it will be canceled.
We need volunteers to help with this event. Please click here if you can help: Click Here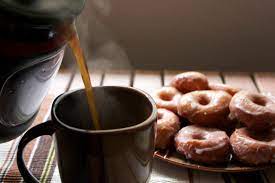 Children's Adoration Hour
CHILDREN'S ADORATION HOUR
First Fridays 11am
Come experience Eucharistic Adoration with your little ones! Join us on the First Friday of every month at 11 am to the repositioning of the Blessed Sacrament. Children will meet in the bridal room (off of the women's restroom) and can be picked up there afterwards.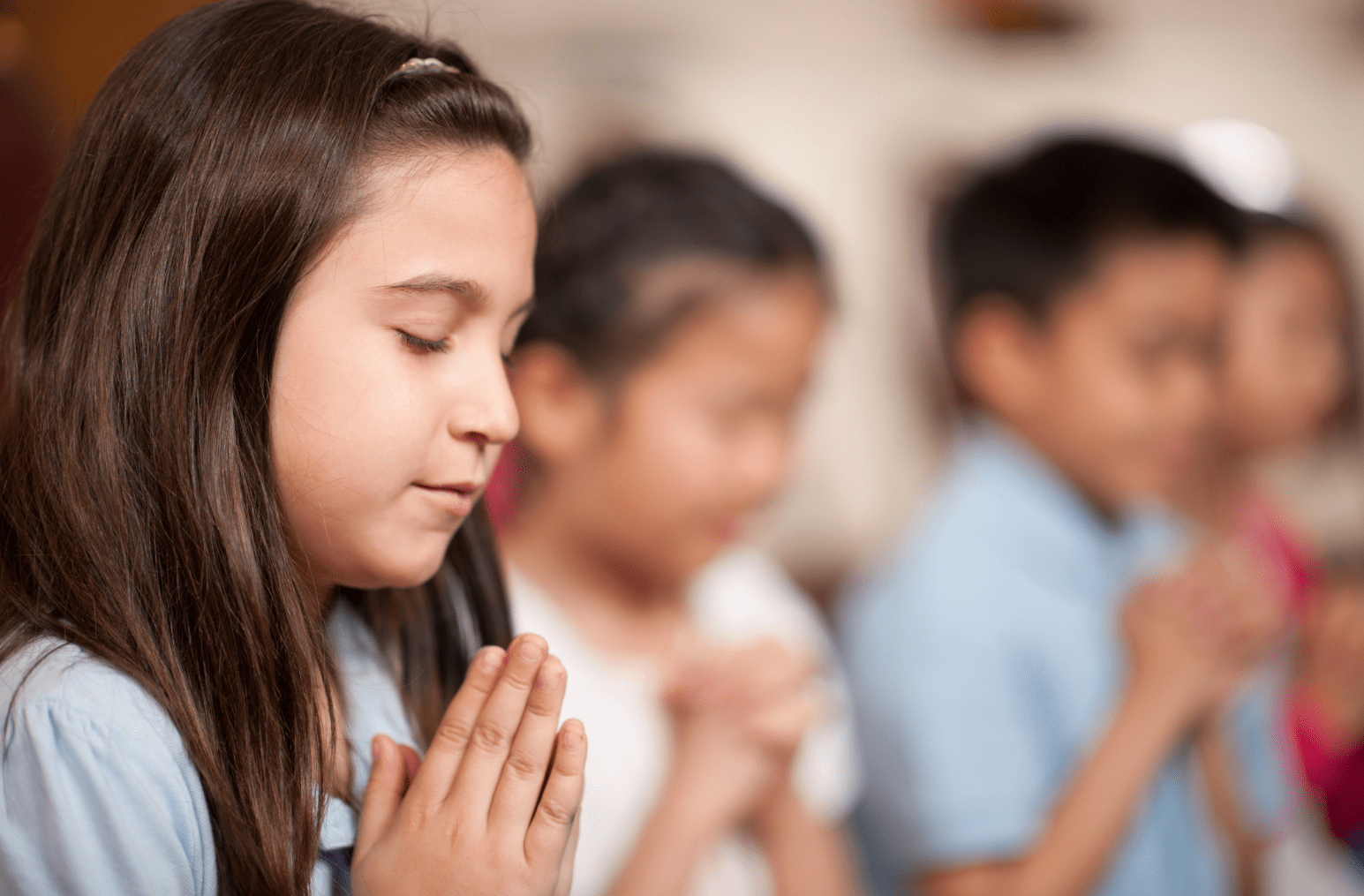 GRIEVE WITH HOPE RETREAT
GRIEVE WITH HOPE RETREAT: SAVE THE DATE
September 23-25, 2022
On September 23-25, a team from Cornerstone of Hope (Cleveland area) will present a retreat  for those who have suffered a loss. The event is sponsored by the Diocese of Lansing and hosted by St. Thomas and other local parishes. It will include teaching, discussion, prayer and sacraments. The retreat is open to anyone, no matter where they are in their faith journey or their grief journey, so make sure you share this opportunity with friends and family.  Watch for more information!
FORGIVENESS RETREAT
FORGIVENESS RETREAT ~ SAVE THE DATE
November 5, 2022 St. Andrews in Saline
On November 5, St. Andrew's in Saline will host a forgiveness retreat presented by Director of Pastoral Ministry, Michelle Kazanjian. Mark your calendars and watch for registration information!
Fr. Chris St. Luke talks
Theology of St. Luke
August 4, August 11, August 18
7:30pm-8:30pm with a Q&A to follow
Fr. Christopher Owczrek will be at St.Thomas for a series of 3 presentations on the Theology of St. Luke. The talks will be on Thursdays, August 4, August 11, and August 18 in the parish hall. The talks will be on the role of the Holy Spirit, Poverty and Riches, & Love of enemies. 
Fr

. Christopher Owczarek, sdb, was ordained in 1987 with a Master in Divinities and four years later obtained Licentiate in Sacred Scripture at the Pontifical Biblical Institute in Rome. After that he started lecturing at the Catholic University of Eastern Africa in Nairobi. After four years he returned to Rome and in the year 2000 he defended his doctorate at the Pontifical Gregorian University. His thesis on 'Love of Enemies in Luke-Acts: Teaching and Practice' was published two years later while he was already back in Nairobi. Apart from different learning institutions in Kenya, he also lectured in Tanzania, Rome and Jerusalem.

For

 the last four years he has been lecturing at the Theological Institute of St. Thomas in Messina. The Institute is aggregated to Pontifical Salesian University in Rome.