First Grade
06 March, 2023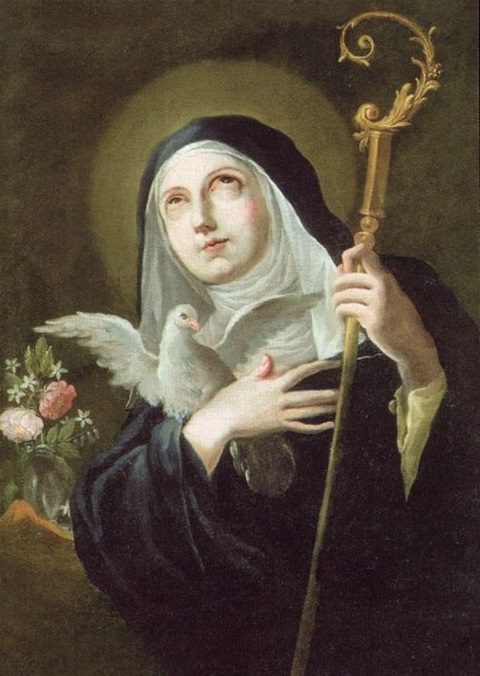 "All men by nature desire to know."

-Aristotle
Welcome to the 2022-2023 school year!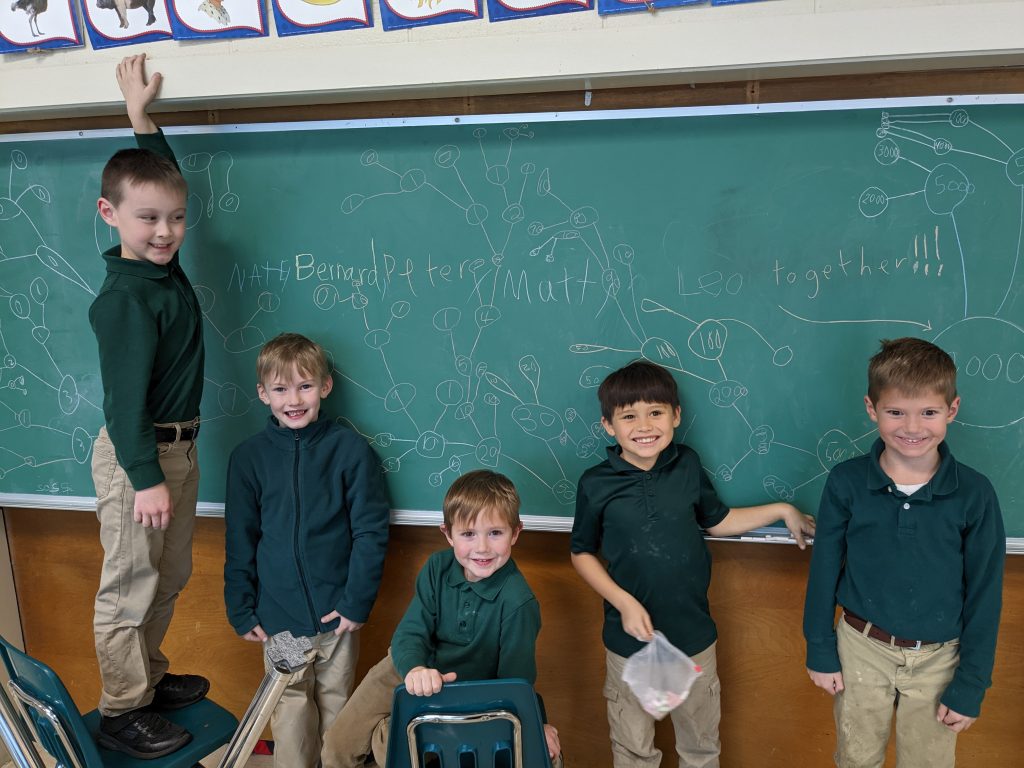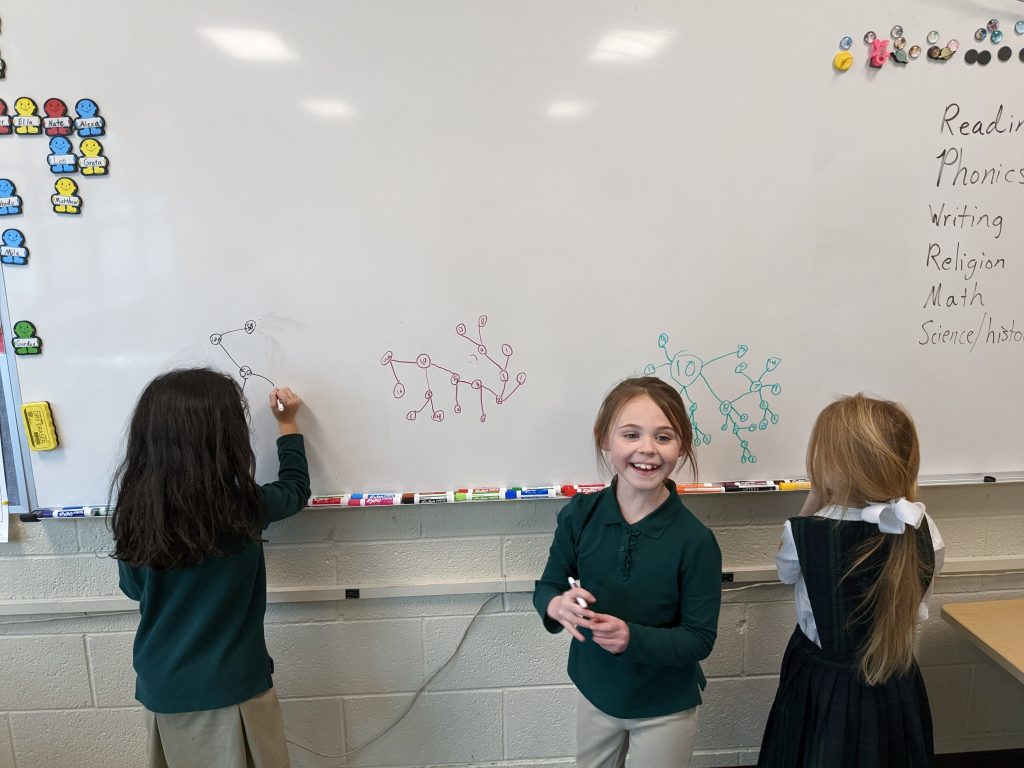 Dear Parents,
Update: The dreaded bug has finally got me. I apologize for my absence. Given that it is my illness at fault, we will not have the phonics test or poem recitation this week unless the students choose to do it. I want to apologize ahead of time for anything being late this week on this page. In my zeal to craft amazing works of cake art, I sliced open my finger and got a few stitches Friday night which makes typing rather slow. On the bright side, I have a little extra something to offer up for Mrs. Steffy and her dad. The students prayed extra prayers for them yesterday.
Reading: This week we are beginning to read a book of King Arthur stories. This first story is all about how the young Arthur finds the sword in the stone and is revealed to be the son of the former king. He was taken from his father to keep him safe and hidden by the wizard Merlin until the time was right. The sword in the stone was put there by Merlin so that only the true king could remove it. Arthur is found to be the only one who can do it and is made king. On Tuesday, I will read the story to the students and they will ask questions that we will discuss later. We'll cover some new words that we haven't heard before as well. On Wednesday, I will read the story again and the students will do their best to retell it to each other. If we have time, they can draw a picture of their favorite part. Then on Thursday, we will have our shared inquiry discussion in which the students will think more deeply about the story and try to answer the questions that they asked on Tuesday. On Friday, the students will get to read with a partner and I will take time to read with some of the students who need a little help. I'll also assess how the students are reading in general. Hopefully, we will have time for the students to craft their own stories if they want to.
Phonics: The student did great on the phonics test last week! They've been very consistent lately, demonstrating an excellent retention of their special sounds and very efficiently studying their spelling words. This week we will be working on contractions, learning the special sounds ure in pure, ture in pasture, and war in warm. We are almost at the end of our special sounds! We'll be continuing to practice recognizing compound words. We'll also practice alphabetical order and the y to i rule. This one is still somewhat tricky for the students although they have pretty much mastered adding ing, ed, er, and est to words that do not end in y. We will keep playing lots of games to review our special sounds and work on spelling words that we can sound out. If we have time, we will work on rhyming words as well. As usual, I will have this week's spelling list under the resources tab and send home a physical copy on Tuesday.
Writing: The students had a fun time coming up with stories for each of the pictures last week. We didn't quite get to writing the final paragraph, but we did manage to write the other two and compose all three outlines. The students are getting quite adept at finding mistakes and correcting their own work as well as writing in a timely fashion while keeping everything legible. This week we have another story to tell from another three pictures. This one is about a boy who finds an alligator and takes him home. That's about all the pictures give us, leaving the students to come up with the rest of the details of the story. On Tuesday, the students will get the pictures and figure out what order they go in while also thinking about the central fact of each one. Then on Wednesday, we will try to write as many of the outlines as we can. By Thursday we should be finished with the outlines and working on writing the paragraphs. We likely won't get through the entire writing process this week since we only have four days, but we'll finish up next week. Along the way this week, we will also find the parts of speech and rhymes in the poem, practice our dress-ups, and practice the poem in class. The students have been doing a great job with the memorization so whatever you are doing at home, it's really working! Some students however, have been missing their poem for whatever reason a couple of times and only let me know Thursday or Friday that they haven't been practicing. If you could let me know if that happens so that I can make sure they get a copy, I would really appreciate it!
History/Science: Finally, we are beginning our unit on knights! We've been collecting cardboard for awhile and now we are finally going to use it to make swords this week! First, we are going to learn about knights as the center of the medieval army. They began their training at only seven years old when they were sent off to become pages in the service of a knight. The page would mostly do things such as wait his Lord's table, care for clothes, and assist in dressing. The students will color a picture of a page and his knight before being assigned a color according to their angel house and a list of tasks to complete over the week in imitation of a page. This an especially interesting unit for the boys who are at the age when they would have begun page training in medieval Europe. Then on Wednesday, we will begin crafting cardboard swords!
Religion: We are continuing to learn more about the Holy Spirit this week. We will work on our definitions of the Holy Spirit himself and the Holy Trinity. Then we will learn about leadership in a group and how there needs to be one leader for the group to work properly. There is a fun activity that teaches this idea to the students why it is important to have a leader, especially for the Church. Christ sent the Holy Spirit to guide His Church and teach us through the pope, bishops and priests. We'll also be learning about the many different ways in which the Holy Spirit has been depicted. Much like God the Father, it is hard to imagine the Holy Spirit because He is a spirit. So, throughout the Bible and Christian history, there have been many symbols used to represent the Holy Spirit. The students will study some of this symbols and then try to come up with one of their own given what they have learned about the Holy Spirit this week. On Tuesday we have Good Shepherd as well and Mass all four days this week along with adoration on Friday.
Math: We are moving on to adding and subtracting numbers within one hundred. This chapter is a bit more challenging and takes its time to teach the students several different ways of adding an subtracting numbers. The first method they will learn is adding the ones without regrouping. They will learn to add a two-digit number to a one-digit number by adding the ones. Then in lesson two, the students will learn to add a two-digit number to a multiple of ten by adding the tens. Lesson three goes back to adding ones using a different technique. The students will learn how to add a two-digit and a one-digit number by making the next ten and by using facts to twenty. Lastly, this week we will also start adding two two-digit numbers without regrouping. We may take this chapter slower than the last due to the concepts being a little more challenging. Although I wouldn't normally send home any work, depending on how we are progressing, I may send some of the workbook pages home this week for the students to practice. Please feel free to reach out if you would like any extra resources for this unit. I have the Singapore at home videos linked in the resources tab as well.
Please feel free to reach out to me via email with any questions that you have. I am happy to explain things in more detail and provide any information that I may have forgotten. I am excited to share all the wonders of first grade and want to make the year as smooth and streamlined as possible for parents.
Have a blessed week!
Virtue of the Term – Sacrifice
Parent Action Items –
Please send a water bottle with your child
Remind students to bring their take-home folders and math workbooks to school
Please send snow gear with students on snowy days
There are now audio versions of the phonics charts under the resources tab
Weekly Schedule
Dear Parents, here is a weekly schedule and daily breakdown for the 1st grade classroom. Each week, I will be updating it with any important events in each class.
Monday
Tuesday
Wednesday
Thursday
Friday
7:55
Homeroom
Homeroom
Homeroom
Homeroom
Homeroom
8:00
Assembly
Mass
Mass
Mass
Mass
8:45
Reading/Phonics
Reading/Phonics
Reading/Phonics
Reading/Phonics
Reading/Phonics
10:00
Recess
Recess
Recess
Recess
Recess
10:20
Religion
Religion
Religion
Religion
Religion
11:15
Lunch
Lunch
Lunch
Lunch
Lunch
11:40
Writing
Writing
Writing
Writing
Writing
12:30
Math
Math
Math
Math
Math
1:40
Recess
Recess
Recess
Recess
Recess
2:00
History/Science
History/Science
History/Science
History/Science
History/Science
3:15
Homeroom
Homeroom
Homeroom
Homeroom
– Desk cleaning
Homeroom
Powerschool
Assignments
Resources