First Grade
17 May, 2022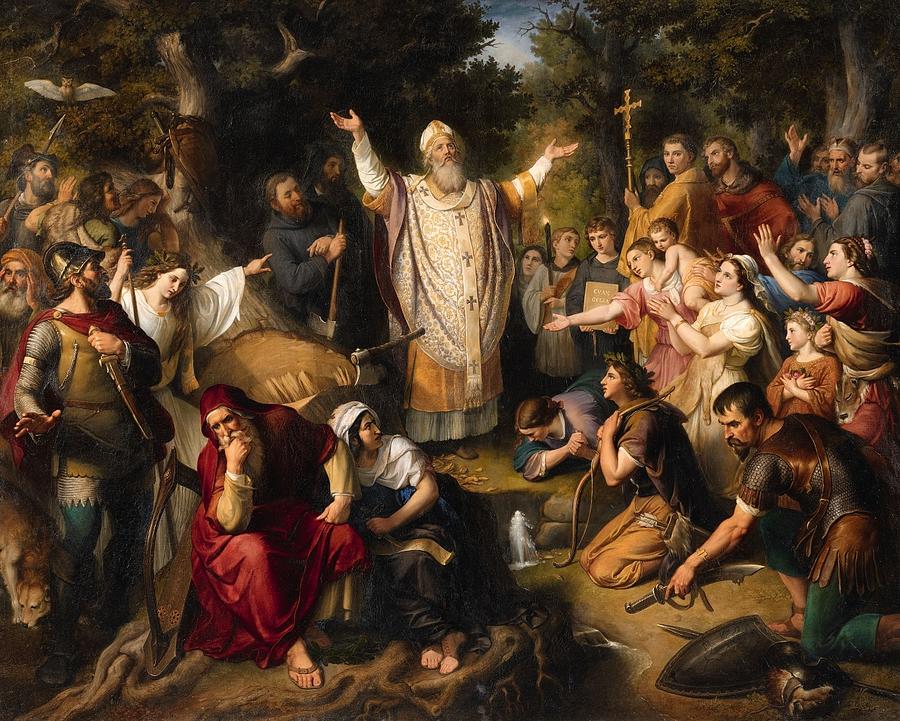 "All men by nature desire to know."

-Aristotle
Welcome to the 2021-2022 school year!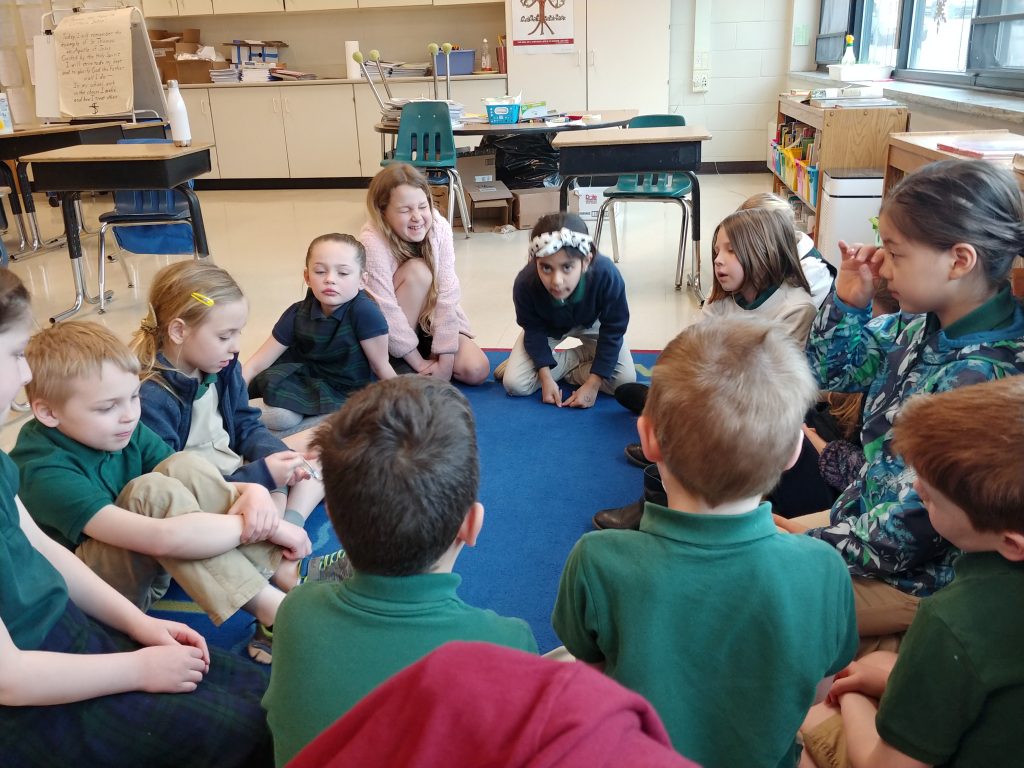 Dear Parents,
Hello everyone! We finished up our math curriculum entirely over the past week. The students did an amazing job learning all of the material over the year and have even started to understand the first basics of multiplication. Almost all of the students were in the nineties on their phonics tests this week! They have really learned and now they remember extremely well most of their special sounds and are doing a much better job with their spelling words. We learned our poem about the little seed and practiced singing Robin in the Rain for our celebration of wonder on Wednesday. The students have been working on their castles all week, and they are still going at it! They are looking great and the students are learning a lot socially and about life in a medieval castle. As the weather warms up, we are also making sure that we get outside everyday and play in the sunshine!
Reading: This week we are reading the next several chapters of Paddle to the Sea! This book is about the journey of a little wooden man in a little wooden canoe and his journey through the great lakes. It is beautifully illustrated, and we'll get the chance to look at a map of the great lakes and talk about our own state of Michigan. As we have been doing thus far, we will start with a first reading as a group in which the students follow along while I expressively read the story out loud. The students will ask their questions for our discussion later in the week and we will complete the study guide page for the day. Tuesday the students will help me read the story by taking turns reading pages. The students love proving how well they can read to me and each other! Wednesday we will have our shared inquiry discussion which the students enjoy although it often challenges them when it comes to learning to listen to the thoughts of others. Thursday will be an independent reading day with a friend. They love telling me that they finished their book and it was so easy! Friday we'll have an art activity if we have time.
Phonics: This week the students did a great job on their phonics tests! Many of them definitely studied their spelling words a little bit more this past week! It really showed on the tests! It is also showing in the classroom games and exercises! This week we'll keep playing games to review our special sounds, practice finding rhyming words, adding suffixes, practice writing words and sounds that they hear, and continue working on syllables and syllable rules. We'll still be using our whiteboards for dictation so that I can see how the students are doing with translating what they hear into writing. They enjoy writing the special sound or word and then illustrating it on the whiteboards! The students have improved immensely in their ability to hear the differences between similar sounding special sounds. The thirtieth and final spelling list is under the resources tab, and I will send home the hard copy on Monday. On Friday we will be taking the thirty-second and last phonics test!
Writing: This week we will be moving on to week 29 in our IEW curriculum. We've learned lots of different kinds of writing over this semester. These last few weeks are review weeks in which we will practice those different kinds of writing beginning with non-fiction source texts. We're writing about plants because it's spring and really taking our time to perfect and edit our work. We will attempt to read and summarize to separate source paragraphs, edit them, and introduce a writing checklist at the end of the week. While we write, we'll be reviewing all of the dress-ups and grammatical concepts that we covered over the year. The students have a pretty solid grasp of the parts of speech and which dress-ups are which as well as how to use them. The poem this week is called The Little Seed and will need a little more practice at home than last week's poem. Nearly the entire class was able to sing Robin in the Rain!
History/Science: We'll be shifting our focus to history this week. We are still observing our plants each day as we see if we can grow new ones from cuttings, but we will be learning about the reconquest of Spain from the Muslims this week. We'll take the time to finish up our castles and connect the structures that we are building to medieval life and warfare. We'll look at some beautiful art again and take some time to visually study the world at the time. We'll learn about how the knights would have gone to war and why it was important for them. Lastly, we'll learn the true story of Santiago or St. James. Along the way, we'll have some fun activities in order to make that connection with the stories of history which can sometimes be hard for the students to really imagine. We'll be taking the time to review our geography of the seven continents and the countries in Europe as well.
Religion: This week the students have a special joint Pentecost celebration with the second grade class! Instead of their normal Catechesis of the Good Shepherd lesson on Monday, they will be joining second grade on Tuesday. As usual, we will be going to Mass on Wednesday and Friday and have adoration on Friday as well. In the classroom, we'll be learning about the Old and New Testaments and their relationship to one another. We'll be specifically learning about how the Old Testament foreshadows the new and pay particular attention to some of the most important prophesies.
Math:
Please feel free to reach out to me via email or this portal with any questions that you have. I am happy to explain things in more detail and provide any information that I may have forgotten. I am excited to share all the wonders of first grade and want to make the year as smooth and streamlined as possible for parents.
Have a blessed week!
Virtue of the Term – Humility
Parent Action Items –
Please send a water bottle with your child
Remind students to bring their take-home folders and math workbooks to school
Please send snow gear with students on snowy days
There are now audio versions of the phonics charts under the resources tab
Weekly Schedule
Dear Parents, here is a weekly schedule and daily breakdown for the 1st grade classroom. Each week, I will be updating it with any important events in each class.
Monday
Tuesday
Wednesday
Thursday
Friday
8:00
Homeroom
Homeroom
Homeroom
Homeroom
Homeroom
8:05
Reading/Phonics
Reading/Phonics
Reading/Phonics
Reading/Phonics
Reading/Phonics
– Test
9:00
Writing
Writing
Writing
Writing
9:30 – PE
9:50
Recess
Recess
Recess
Recess
10:20
Choir
Choir
Math
Math
Writing
11:10
Lunch
Lunch
Lunch
Lunch
Lunch
11:35
Religion/Recess
Religion/Recess
Religion/Mass
Religion/Recess
Religion/Mass
12:45
Math
Library
History/ Science
Art
Math
1:35
History/Science
History/Science
Recess
History/Science
Recess
2:25
CGS
Math
Spanish
History/Science
History/Science
3:15
Homeroom
Homeroom
Homeroom
Homeroom
– Desk cleaning
Homeroom
Powerschool
Assignments
Resources