Kindergarten
29 March, 2021
Boniface Term
We are moving into our final term of Kindergarten. I cannot believe that it has already been 3/4 of the school year already! We have accomplished so much this year and I am so very proud of all the students. Although this is usually the time of the year teachers might be winding things down, we will be continuing our studies full throttle. Here are some of the areas in which we will be working this term:
Religion: We will be continuing with the story of Easter and Jesus' death and resurrection. From there we will learn about the Pentecost, the Holy Spirit, and the beginnings of our Church. Most importantly, we will be learning how God wants us to be saints in Heaven and how we can work on achieving that goal (following the commandments, praying, etc.).
Reading: We will be continuing to build our blends together to form simple words, and integrating this more intentionally with sound city sounds to teach the students the basics of sounding out words. Additionally, each week, students will be working on a new set of sight words to read and memorize. We will also have early readers that we will use to build up our confidence and skills.
Writing: With the students growing confidence in Key Word Outlines, students will have the opportunity to create their own KWO and paragraphs based on previously used source text from earlier in the year. This will be part review in addition to giving each student the independence to create their own unique paragraph.
Critical Thinking: As a class, we will be reading stories from our Junior Great Books program. This program also includes supplemental activities to get the students to think deeply about a text. After several days of reading, re-reading, and working on activities, we will get together and discuss the stories, while using evidence to answer questions from fellow students.
Math: We will be comparing numbers, learning how to count by 5's and 2's, building patterns, discovering 3-d shapes, and starting the beginning stages of addition.
History: With Ancient Egypt, Mesopotamia, and Greece under our belts, we will be moving over to our last great empire: Rome. We will discover how it all started, how it was different from other Empires/cultures, and follow its growth up to the Age of Constantine.
Science: This term, we will be studying some live animals. We will learn about goldfish, land and water snails, pillbugs and sowbugs, and worms. The student will have the experience of interacting with these animals in the classroom.
Virtue of the Term: Modesty
Our virtue for this term is a virtue that, I believe, most people just relegate to dressing and acting appropriately. Although those are element of modesty, this virtue means so much more. Mr. DiLaura explained it beautifully to the students after mass a few week ago. He likened it to the virtue of dignity. We are all created in the image and likeness of God, and with that gift, each person is born with a special bond, a connection to God and to each other, through love. Since each person is given this amazing gift, everyone is deserving of love from one another. That is dignity. Modesty is when you recognize that love (dignity) for yourself, and you live in a way that shows glory to God AND gives dignity to your body and spirit.
This virtue also reminds me of a line from Spider-Man. Young Peter Parker was taught by his Uncle Ben, "With great power comes great responsibility." God has given us such great powers. It is now our responsibility to use those powers in a way that shows glory to God.
Therefore prepare your minds for action; discipline yourselves; set all your hope on the grace that Jesus Christ will bring you when he is revealed. Like obedient children, do not be conformed to the desires that you formerly had in ignorance. Instead, as he who called you is holy, be holy yourselves in all your conduct; for it is written, "You shall be holy, for I am holy." – Peter 1:13-16 
Socratic Discussions
In class, I've introduced a basic version of Socratic discussion in which the students engage. We have been using this discussion technique during our Junior Great Books program, and the students are really enjoying it. We have 3 rules for our discussion: Students must…
Listen consistently and maintain focus.
Respond to questions with an on-topic response.
Answer questions with evidence or a reason.
We have had two whole-class discussions using these rules and it had been absolutely amazing. The students are busy engaging with each other directly, using their books to look for and point to evidence, and having fun agreeing/disagreeing with each other. To hone these rules/skills (listen above), try using them at home during family discussions. It may even help you, the parent, grow in conversational/listening skills.
Prayer
In class, we have been discussing the importance of praying and meaning it. We have learned to make the sign of the cross to begin the prayer, to fold our hands to keep focused on our prayer and to speak from our heart throughout our prayer. We have even been learning many prayers to recite. However, I would like to encourage all students to practice creating their own prayers. Praying is a conversation with God, and it is good to know some example of how to talk to God, but the best prayers are the ones where we talk openly and freely. Please give your students to lead a prayer at some point during the day or night.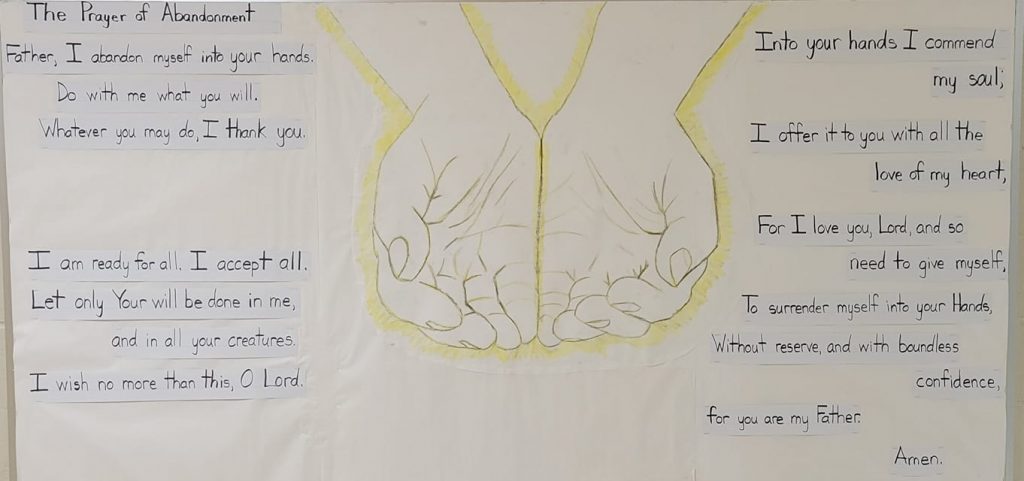 Self-Assessing
I have been working with the class on developing an understanding of self-assessment. The purpose of working with the students n this concept is so they can be more intentional with the work that they complete, and possibly think deeper about the things we are learning in class.

I introduced to the class the 1-4 grading scale. These levels are not designed or intended to belittle anyone, but to enhance our understanding of our capabilities, so as we can work to better ourselves. This scale is the same that is on the report card, so this may be familiar to you already. A level 1 is someone who is at the beginning stage of a concept or a skill. Level 2 is someone who is demonstrating a working knowledge of said concept or skill but is having difficulties with execution. Level 3 is someone who is able to demonstrate the concept or skill and does so with relative ease. Level 4 is someone who is so proficient in the concept or skill, they are able to make it their own and help teach someone else. A level 4 would also be someone who goes above and beyond on a task and does more than the basic directions require.

Students can be found at varying degrees within this scale, and that is ok. We are all different and process information in different ways. I would not expect anyone to be at Level 4 for all subjects in kindergarten. With the students and parents knowing this scale, I would request that the students take an honest self-assessment of their skills and try to place themselves on this scale. From there, I would like the students, in conjunction with the parents and myself, to work to elevate themselves to the next level.

Up to this point, the purpose of homework was two-fold: to begin the habit of working on school things outside of school, and to give extra practice for particular skills (mostly writing/reading). At this point, I will begin making notes on homework stating my assessment of their level, and a brief comment on what to work on to move up. I would like it if students took the time to read and think about my comments, so they could take a big step in taking charge of their learning.
Water Bottles
Please remind your students to bring their water bottles to school. When they don't have their own, Mrs. Steffy in the office does provide bottled water to those who need one, but I fear that her generosity is being used as a crutch for students not remembering their own.
Sound City @ Home
If you would like to create your own Sound City at home, I have just the thing for you. The link below is to a folder of the Sound City house templates. Just print, cut, and follow the diagram below. 🙂 Enjoy!!!
Sound City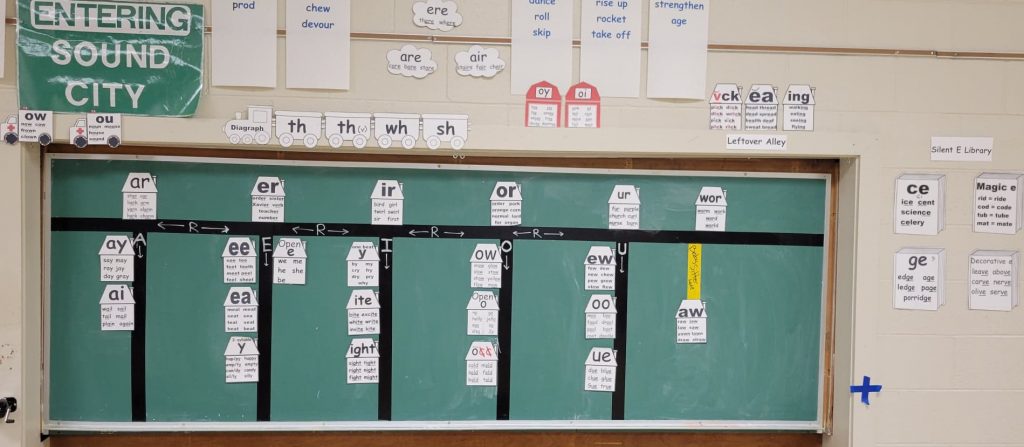 R-Street: ir like in bird or girl
Long A-Street: ay says long-a like in May, say, and day
Diagraph Train: th as in the, th (voiced) as in them, wh as in what.
Long I Street: y at the end of a one beat word, as in fly or guy.
Long E Street: ee as in feet, and ea as in team.
Clouds: ARE and AIR say /air/ like in dare and fair.
Ambulances: OW and OU say "Owwwwww"… It's time to go to the hospital!
Leftover Alley: Short-E ea House: ea says |e| as in head and thread.
Leftover Alley: (Short vowel)ck House: When you hear "k" after a short vowel, it is written as "ck" like in duck or pack.
Leftover Alley: ing House: ing can be found at the end of a verb that is happening NOW!
R-Street: er like in Xavier and in teacher
R-Street: or like in for and order
Long U-Street has the house "EW" which says ewww, like in few and pew.
Baby-sitter Lane: aw House, where it says awwww, like you would say in raw and law.
Silent-E Library: Magic-E Book: The silent e at the end transforms the short vowel sound into a LONG vowel sound.
Silent-E Library (where the e helps its friends change their sound the e stays silent) we have "ce" house, where it says "ssss", like in ice and cent.
Powerschool
Assignments
Resources