Kindergarten
01 June, 2021
End of the Year
The end of the year is fast approaching, and I wanted to take a moment to say thank you to everyone for making this a successful year. Thank you for all the help and patience you have given to me and your students. This year has been different due to our special protocols, but we have kept everyone safe and have had a full year of in-person learning, and we could not have done it without all of you. Thank you!
The Mercy and Grace of God
We are broken! Since the Fall, we have been living broken lives, using our broken thoughts to try to solve the problems of our broken world. It doesn't take much research to see how truly terrible we are at managing this world. We look at history and see war after war. We look at our environment and see the destruction we have caused. We hear the news and witness how poorly we treat each other. We are broken and do not deserve salvation at all. We deserve every bit of punishment that hell has to offer us.
But alas, God shows both mercy and grace. Mercy withholds a punishment we deserve, while grace gives a blessing we don't deserve. In mercy, God chose to cancel our sin debt by sacrificing His perfect Son in our place. But He goes even further than mercy and extends grace to His enemies. He offers us forgiveness, reconciliation, abundant life, eternal treasure, His Holy Spirit, and a place in heaven with Him someday when we accept His offer and place our faith in His sacrifice. Grace is God giving the greatest treasure to the least deserving, which is every one of us.
Sight Words
We have been studying sight words over the last few weeks. These are very common words that generally do not follow common phonemic rules. Please practice these words with your student, and offer them opportunities to discover these words in their world (in books, on cereal boxes, on street signs/billboards, etc.).
Virtue of the Term: Modesty
Our virtue for this term is a virtue that, I believe, most people just relegate to dressing and acting appropriately. Although those are element of modesty, this virtue means so much more. Mr. DiLaura explained it beautifully to the students after mass a few week ago. He likened it to the virtue of dignity. We are all created in the image and likeness of God, and with that gift, each person is born with a special bond, a connection to God and to each other, through love. Since each person is given this amazing gift, everyone is deserving of love from one another. That is dignity. Modesty is when you recognize that love (dignity) for yourself, and you live in a way that shows glory to God AND gives dignity to your body and spirit.
This virtue also reminds me of a line from Spider-Man. Young Peter Parker was taught by his Uncle Ben, "With great power comes great responsibility." God has given us such great powers. It is now our responsibility to use those powers in a way that shows glory to God.
Therefore prepare your minds for action; discipline yourselves; set all your hope on the grace that Jesus Christ will bring you when he is revealed. Like obedient children, do not be conformed to the desires that you formerly had in ignorance. Instead, as he who called you is holy, be holy yourselves in all your conduct; for it is written, "You shall be holy, for I am holy." – Peter 1:13-16
Socratic Discussions
In class, I've introduced a basic version of Socratic discussion in which the students engage. We have been using this discussion technique during our Junior Great Books program, and the students are really enjoying it. We have 3 rules for our discussion: Students must…
Listen consistently and maintain focus.
Respond to questions with an on-topic response.
Answer questions with evidence or a reason.
We have had two whole-class discussions using these rules and it had been absolutely amazing. The students are busy engaging with each other directly, using their books to look for and point to evidence, and having fun agreeing/disagreeing with each other. To hone these rules/skills (listen above), try using them at home during family discussions. It may even help you, the parent, grow in conversational/listening skills.
Water Bottles
Please remind your students to bring their water bottles to school. When they don't have their own, Mrs. Steffy in the office does provide bottled water to those who need one, but I fear that her generosity is being used as a crutch for students not remembering their own.
Sound City @ Home
If you would like to create your own Sound City at home, I have just the thing for you. The link below is to a folder of the Sound City house templates. Just print, cut, and follow the diagram below. 🙂 Enjoy!!!
Sound City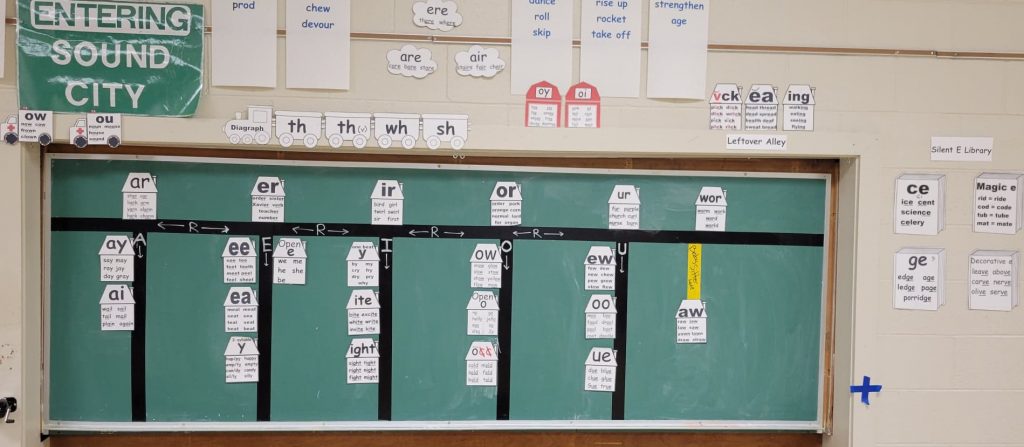 R-Street: ir like in bird or girl
Long A-Street: ay says long-a like in May, say, and day
Diagraph Train: th as in the, th (voiced) as in them, wh as in what.
Long I Street: y at the end of a one beat word, as in fly or guy.
Long E Street: ee as in feet, and ea as in team.
Clouds: ARE and AIR say /air/ like in dare and fair.
Ambulances: OW and OU say "Owwwwww"… It's time to go to the hospital!
Leftover Alley: Short-E ea House: ea says |e| as in head and thread.
Leftover Alley: (Short vowel)ck House: When you hear "k" after a short vowel, it is written as "ck" like in duck or pack.
Leftover Alley: ing House: ing can be found at the end of a verb that is happening NOW!
R-Street: er like in Xavier and in teacher
R-Street: or like in for and order
Long U-Street has the house "EW" which says ewww, like in few and pew.
Baby-sitter Lane: aw House, where it says awwww, like you would say in raw and law.
Silent-E Library: Magic-E Book: The silent e at the end transforms the short vowel sound into a LONG vowel sound.
Silent-E Library (where the e helps its friends change their sound the e stays silent) we have "ce" house, where it says "ssss", like in ice and cent.
Powerschool
Assignments
Resources