We are all on a spiritual journey along a path marked by those who have preceded us. Through print, audio and video materials found in the library, we may discover inspiration and direction in the wisdom of popes, scholars, saints and mystics, as well as those contemporary writers who travel with us.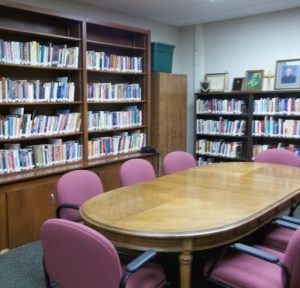 Location
Located in Room 254 in the Parish Center, the library is "self-serve". Please feel free to come in, browse and borrow material. If the lights are not on, the switch is on the right, just inside the door.
Hours
The library is open whenever there is access to the Parish Center. Please note that Room 254 is a popular meeting room. Before making a special trip to use the library, it is advisable to call the Parish Office to see if the room is available. (734-761-8606)
How To Use the Library
The library is organized using the Dewey Decimal system. There is a Dewey chart posted in the library.
Directions for borrowing books or audio-visual materials are posted in the library. You may keep items for 4 weeks. If you want to keep them longer, please renew using the small Renewals notebook or contact us by library email. We do not charge fines, and we depend on borrowers to remember to return their items!
Donations
We love to get donations and rely on them to keep the library current! There is a box in the library labeled for donations. Please contact us to arrange for donations of large numbers of items.
Browse our interactive catalog. Search/sort by any column. A print copy of the catalog is located in a binder in the library. Last updated 11/19/19.
Check out the new items added since the last catalog update
Formed is a subscription resource provided by the parish. It provides online access to Catholic e-books, movies, talks, and programs. Members of St. Thomas parish may use this resource free of charge.
Contact us
The library is run by a small group of volunteers. We welcome suggestions, comments and new members. Leave a note in the library Returns Box, with the receptionist in the Parish Office or contact us via email.