Mission Outreach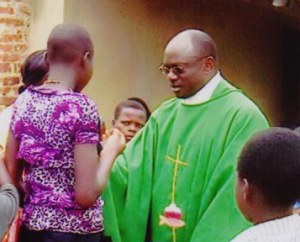 Collecting money from churches to support poorer churches in other places is an ancient practice, being first mentioned in some of St. Paul's epistles (1 Cor 16:1–4; 2 Cor 8:1–9:15; Rom 15:14–32). That practice has continued to the current day, with churches in more prosperous areas called on to provide aid to churches in many places around the world that suffer from poverty and other hardships, and to support the work of different organizations which serve in such places.
St. Thomas has been blessed many times by having opportunities to support these kinds of mission outreaches. In particular, our parish has developed long-standing relationships with several such outreaches, and our congregation has warmly received their representatives and generously supported their work. The following briefly describes several of the most notable outreaches we have supported in this way.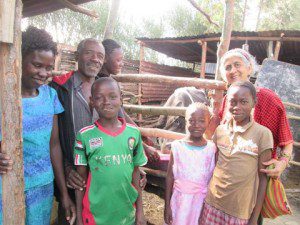 Fr. Francis Muhenda Adyeeri is a priest in the Diocese of Fort Portal in western Uganda. He worked for a number of years at Saints Peter and Paul parish in Butunduuzi in the Diocese of Fort Portal. St. Thomas parish began supporting his work in 2008, after his first visit here, and we have continued to do so since then. In 2015, Bishop Robert Muhiirwa assigned Fr. Francis to a newly-formed parish, St. Joseph in Kyamatanga. Click here to read more about Fr. Francis and St. Joseph parish, and to support that work.
Naomi Corera, a native of Sri Lanka and a long-time parishioner at St. Thomas, has had a decades-long career as a teacher and principal in Catholic Schools. Some years ago, at the invitation of some Ugandan priests, she visited the country to see the conditions at a school there. After that visit, she returned to Ann Arbor inspired to work toward establishing and improving the school she visited. That resulted in an organization named Children Waiting Everywhere, has now expanded that work to include additional projects in Uganda, as well as in Kenya and Sri Lanka. Click here to read more about some of their projects, and to support their work.
Respect Life Committee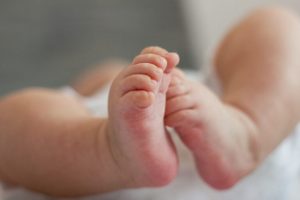 The Respect Life Committee Mission Statement:  To promote in our parish and community respect for every human life from conception to natural death.
Goals:
Pray for protection of all human lives
Educate ourselves and others about Catholic teaching on pro-life issues
Provide material, spiritual and emotional support for mothers and babies
Support pro-life activities in our community
Maintain a calendar of pro-life events
Increase membership of the St. Thomas Respect Life Committee
Promote pro-life legislation
Meeting times:  2nd Thursday of each month from 3:15-4:45pm in the parish library
If you cannot attend meetings but would like to help with various activities, projects, or events, be on the committee's e-mail list, or wish additional information, please contact Barbara Grant Yopko at 734-355-3503.
Watch parish bulletin for pro-life activities, events and information.
The inviolability of the person which is a reflection of the absolute inviolability of God, finds its primary purpose and fundamental expression in the inviolability of human life. Above all, the common outcry, which is justly made on behalf of human rights –for example, the right to health, to home, to work, to family, to culture—is false and illusory if the right to life, the most basic and fundamental right and the condition of all other personal rights, is not defended with maximum determination. . . The human being is entitled to such rights, in every phase of development, from conception until natural death; and in every condition, whether healthy or sick, whole or handicapped, rich or poor. . .

– The Vocation and the Mission of the Lay Faithful in the Church and in the World (Christifideles Laici), Pope (now Saint) John Paul II
A Pro-Life Litany (adapted from a prayer by Priests for Life)
Lord, have mercy.
Lord, have mercy.
Christ, have mercy.
Christ, have mercy.
Lord, have mercy.
Lord, have mercy.
Christ, hear us.
Christ, graciously hear us.
God the Father, Creator of the world,
Response:  Have mercy on us!
For every sin against life,
For the bloodshed throughout our land,
For the silence of your people,
For the co-operation of your people in this tragedy,
For our pre-born brothers and sisters killed by abortion,
Response:  Lord, hear our prayer.
For our pre-born brothers and sisters threatened by abortion,
For mothers who have had abortions,
For mothers tempted to have abortions,
For fathers of aborted babies,
For abortionists,
For all who assist and cooperate in abortions,
For doctors and nurses, that they may nurture life,
For the clergy, that they may speak up for life,
For the pro-life movement,
For courage and perseverance in pro-life work,
For legal professionals, courts and judges, educators, media professionals,
For the protection of all human lives from the moment of conception until the moment of natural death,
In thanksgiving for the babies saved from abortion,
In thanksgiving for the mothers saved and healed from abortion,
In thanksgiving for all those who take a stand against abortion,
In thanksgiving for the call to be part of the pro-life movement,
Lamb of God, who takes away the sins of the world, spare us, O Lord.
Lamb of God, who takes away the sins of the world, Graciously hear us, O Lord.
Lamb of God, who takes away the sins of the world, have mercy on us.
Let Us Pray
Almighty and ever-living God, You have created all things through your Son Jesus Christ.  He trampled the power of death by His Paschal Mystery.  May all who acknowledge you promote the sacredness of life and always serve you faithfully, through the same Christ our Lord.  Amen.
BABY SHOWER AND FAMILY BREAKFAST
January 29th, 2023
The Respect Life Committee and Knights of Columbus of St. Thomas the Apostle Church is hosting a BABY SHOWER and FAMILY BREAKFAST in the Parish Hall SUNDAY, JANUARY 29th following the 9:30 and 11:30 masses.
The Knights will prepare a delicious meal. There will be games and prizes, fun for the whole family!
Begin this New Year by lending a helping hand to women and babies in need.
Please bring a gift to bless our local pregnancy help centers: ArborWoman, Family Life Services and Guadalupe Workers.
If you bring a gift, your breakfast is FREE. God bless you for your support of babies and women in need as the pro-life movement continues to work for a culture of life in our land.
Check the listing below for needs
Arbor Women
Diapers sizes 4, 5 and 6
Baby Wipes
Sleep Sacks
Sleep & Play size 0-3 months
Digital Infant thermometer
Jars of baby food (fruit & veggie)
Baby Boy outfits 0-12 months
Guadalupe Workers
Diapers 5 and 6
Car seats
Pre natal vitamins
Small bassinets
Kids clothes, ranging from 5t to 10, boy or girl
Family Life Services
Diapers sizes 6
Enfamil yellow powdered baby formula
Baby wipes in packages
Crib mattresses
Toddler jackets 3T- 6T
Underwear 3T-6T Boy and Girls
St. Vincent de Paul Outreach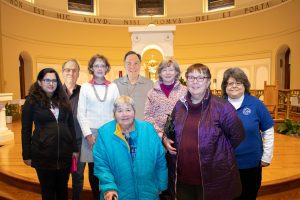 The Society of St. Vincent de Paul, St. Thomas the Apostle Conference has been helping individuals and families in our area since 1935.  Our vocation is to follow Christ by service to those in need.  We aspire to reflect the love of God as revealed by Christ.
We provide help with rent, security deposits, utility bills, sometimes medical supplies, and information on local resources.  Parishioners can request help by leaving a message at 734-761-8606 ext. 2901.  Other Washtenaw County residents are encouraged to secure a caseworker from one of the many social service agencies in Washtenaw County and have them submit a request to us for assistance. You can also reach us by email at vdepaul530@gmail.com.
We will pray with you and for you! Please click here to learn more about the work we do.