The Neocatechumenal Way is a post-baptismal Christian initiation modeled after the Holy Family of Nazareth, living in Humility, Simplicity, and Praise where the "other" is Christ.
This charism is built on the three pillars of Word, Liturgy, and Community.
Contact: Kevin Maki (734) 834-6858
---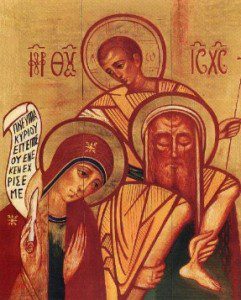 Some Documents about the Way:
Some Documents about the Founders of the Way:
A Short History of the Way:

The Neocatechumenal Way began in 1963 when a young, talented Spanish painter called Kiko Arguello, who had had a conversion experience after a period of atheism as a student, returned for Christmas to his parents' house. After some time he was convinced that he can find presence of God at the feet of the crucified Christ – namely, at the feet of the poorest of the poor.
His inspiration came from Charles de Foucauld: to live in silence at the feet of Christ crucified. He went to live himself in a shack in the shanty town, taking nothing with him except his Bible and guitar. The slum-dwellers were curious as to who he was and why he was there.
They discovered he was a Christian and began to ask him questions about the Gospel. The group that gathered round him in 1963 were the first community of what was to become the Neocatechumenal Way, and Kiko's talks to this group the first so-called "catechesis". At the same time he was joined by a young Spanish woman called Carmen Hernandez, who had just completed a theology degree at a missionary institute.

When the police began to pull down the shanty town Kiko appealed to the then Archbishop of Madrid, Mgr Casimiro Morcillo. Morcillo came to see for himself and was so impressed by the work Kiko and Carmen were doing that he invited them to begin the same catechesis in the parishes of Madrid. Subsequently, he gave them a letter of introduction to the Cardinal Vicar of Rome, who invited them to do the same in Rome.
The movement spread with extraordinary rapidity and as early as 1974 Pope Paul VI publicly hailed its members. He said: "Here we see post-conciliar fruits! … How great is the joy, how great is the hope, which you give us with your presence and with your activity!"
Pope John Paul II enthusiastically supported the Way, resisting hostile pressure from within the Roman Curia as well as the local episcopate. And in 1987 he asked the movement to open a seminary in the diocese of Rome; today about half the ordinations for the diocese of Rome come from this Redemptoris Mater seminary, the first of the 100 that now exist worldwide.
So far 1,800 priests have been ordained from these seminaries, which have now about 2,200 seminarians. The movement itself has about a million members, excluding children, belonging to some 23,000 communities.